Goals this past week
° Get the overall UX/Product plan material in a more packaged and scalable format (i.e. a proper Game Design Document or scope doc)
° Start sketching, in any 3D program, the kind of environment and life forms I'd like to start representing
° Continue my VR Education using my handy Tools & Tutorials Tracker
Status
So it's been a fairly solid week with a combination of planning and learning how to make low poly artwork in Blender. Truthfully, I found myself increasingly stressed about my logistically challenging schedule and my ambition for the Demo.
In order to get more concrete in terms of the overall plan, and since it looks like I will not be able to recruit a developer's help in time before I leave for Sweden, I put together this initial production plan and task manager.
Timeline & Milestones
The most frightening moment this week was when I realized just how important it is that I get some kind of build on a GearVR by the time I head to Sweden for 3 weeks, in 3 weeks. That was a very hard pill to swallow. I'm guessing my fellow Oculus Launch Padders are all pretty much in the same place with Summer in-progress!
The question, doubt and fear that surfaced was along the lines of – Maybe I should have chosen a different idea, maybe I should have chosen Film Production – but obviously I know that that would not have been any easier! The reality is as seasoned as I am in terms of designing digital services and solutions, I'm completely out of my comfort zone here.
I knew CG requires a lot of skill and time, but now I see I have no idea just how much, nor how to design it for VR. In addition to the lack of developer skills this is possibly going to be my undoing! But then dreams wouldn't be dreams if you could easily reach them, right? And giving it your damnedest in the process, learning and growing along the way is half the reward!
Bottomline, my mission is to create a vision and demo for Moki's Adventure, and I will get there. My biggest test is going to be in just how much I can get done in the next 3 weeks.
Asset Tracker
In terms of production of the environment, character(s) (primarily Moki) and props, I've been keeping my Asset Tracker as up-to-date as possible, but trying to identify what exactly I can make for purposes of the demo.
For now I'll need to design Moki in a low polygon aesthetic for demo but would like to have him properly designed by a brilliant 3D artist.
Game Design Document (GDD)
So a few of my fellow Launch Padders have shared their GDDs and/or are in the process of filling it in. Up until now, all I've done is look through a sample template.
Since I am not a game designer, have not been a part of a commercial launch of any kind of game, I have no frame of reference as to how critical this piece of documentation is for me and my project. Especially since I don't have a team to share the vision with – but I do need to package my vision in a way that resonates with people who are familiar with this kind of documentation, so I will give this my best shot.
As usual, my analytical side needs to always start with a quick amount of research. So I read up on this article How To Write Your First Game Design Document which I found helpful.
Educational Gaming Mechanics
Due to the fact that I am trying to design an easy yet highly engaging educational game, I have been thinking a lot about incentives. Mostly leaning towards the overall use of "Quests" or challenges.
At times I feel like I'm so out of my league here, but if having 2 kids age 9 and 4 has taught me over the last 7 or so years is a solid appreciation for what we (as a family) collectively enjoy and gravitate towards when playing educational games.
The most successful products in our house, but of course, are Swedish (husband Swedish and we are a bi-national family) made by a company called Toca Boca.
Their games have been one of our primary sources of entertainment and joy when it comes to mobile gaming over the years, so how could I ignore the fact that they have already heavily influenced my sense of game-play and character interaction? Here is a trailer for Toca Blocks:
Games and mechanics of theirs that I feel align well with what I want to develop in the game-play dynamics in MA are:
Toca Nature
The power to shape the world and feed it's inhabitants.
Toca Doctor
The joy of healing someone else.
Toca Builders
The joy of building in a very immediate and gratifying way.
 
Toca Birthday Party
The joy of taking it slow, celebrating the milestones in life, and cherishing traditions with friends.
Toca Kitchen
The joy of feeding someone else.
Toca Blocks
The joy of building and constructing new worlds.
Toca Pet Doctor
The joy of healing a helpless creature.
Toca Life: Vacation
The joy of entering into a world/domain area/theme and easily engage in that moment.
Toca Lab
The joy of experimentation and seeing its results.
 
MA Game Mechanics * Story
Now I truly am not one to apologize about my work, but in this case I am sorry for the crude presentation of this part. I am prioritizing the need for speed to communicate rather than the fidelity with which I do it!
Normally I would sketch this up as a flow or diagram of some kind, but given the amount of time I have to capture and communicate should only be a fraction of the time I should spend actually creating, this will have to do.
Since sketching last week's minimum flow, I've been feeling like it was lacking impact. Obviously I am limited with what I can implement at this point, but I am not limited by my ability to think big and scale down for the presentation on August 27th.
The way I see it, if I have a hero flow that is the (MVP) or represents the minimum value AND I end up chopping up, slicing and dicing along the way, I'm going to have a sub-par compromise that doesn't do anyone any good.
So below is a sketch of how I am starting to envision the role of Moki and the Player's journey.
The Back Story
Moki is on a wanderlust or walk-about – out to see the world for himself.
While he is out on his adventures he periodically gets postcards from his Father, Pappa Yeti (Mako) about news from home, but also about what is going out on in the world.
The Quests
His Pappa is concerned about developments that are affecting Wildlife (like themselves) in the world. He doesn't want to bother Moki, but also feels it's his responsibility to let him know and gently suggest and encourage Moki that there might be something he can do about it.
The Worlds and their Challenges
(Example Scenario)
The Galapagos is overwhelmed by oceanic pollution and overfishing which inturn directly affect the local inhabitants. So for example: Turtles struggle to find food and population numbers are declining. I need to tread carefully here and not paint the blunt and brutal picture here.
The key dynamic I want to explore is how Moki and the Player work together to help local animals. Both should have uniquely appropriate, but surprisingly amazing super powers.
For example, the Player should be able to affect the local environment either with a "Climate Bar" or their "World Bar". Their supplies are directly represented (and restocked) based on their good behavior. Some features may be locked until they accomplish exceptionally tough deeds or quests.
Moki's powers are inline with the mysterious and enigmatic perceptions of a Yeti. He can paint sunbeams, rainbows or stars in the sky depending on the time of day or sprinkle glitter and joy however he chooses. He can bring out the best in the player and make the player feel ALIVE just by reminding him/her about the simple pleasures in life. About the lesson that you can shape not only your own destiny, but the power to make decisions that will affect others profoundly. The power of your mindful action requires the ability to focus and commit, etc....
Moki is incredibly gentle and intuitively tuned in to the Player, much like a wise Yoda or Mr. Miyagi but in a modern and down-to-earth way. It's important that the feeling of Moki is that he is a child, grown up and wise sage all in one. A true spirit that makes you feel like the only you you can be is the best version of you. For example, have you ever met a kid who expressed complete and total wisdom in their innocent, yet crystal clear way, clearly illustrating their peaceful connection with the world and making you feel more connected to yourself?
So I'm still plugging along learning how to design low poly art in Blender. The best overall tutorial for getting started, for what I need, is this one.
If you're looking for a more lecture based tutorial (for free), I'd recommend Manuel Graphics. First I did the low poly Animals one, and you can see my Buck below.
Then I did the low poly islands one, and can see my latest version below in Blender and rendered out.
After completing these two youtube tutorials I felt like what I really needed was more hand-holding in terms of how the Blender-to-Unity pipeline and production process works for a Mobile VR game. That's when I came across a tutorial site I haven't heard of before called Pluralsight.
The tutorial I've signed on for is called: Designing a Low Poly Game Environment in Blender.
I've had to join as a member in order to access the project files, and will let you know what I think of the tutorial once I'm further along.
I'm currently in the middle of lesson 3 and slightly frustrated with the combination of the cavalier style of the instructor and the video player they use (which both make it hard to follow along). Wouldn't mind if it was free, but it costs over $40 per month.
Somewhere along the lines of searching around for good examples of VR workflows, 3D environmental tutorials and the overall production process I came across this talented Artist: Emelie Stabelle via 3Dtotal.
She works primarily in Maya, but is extremely transparent and generous in sharing her creative process on her site. I really appreciate her work even more after seeing the breadth and depth she covers in each project. I highly recommend that you check it out if you are looking for a variety of 3D related projects.
It was via a music clip she used for a piece she worked on called "The Shepherd" that I discovered Ori and The Blind Forest!
Ori & The Blind Forest
This is totally inline with the vision I have for MA in terms of the animation style, both aesthetically and emotionally. (I also see the role of the Big buddy here being extremely similar with regards to Moki's role to the player.)
It's not a big surprise that the team, Moon Studios, was heavily influenced by Hayao Miyazaki. You can see more screen grabs here. I've installed it on our VR pc, but haven't had time to play it yet!
From what I understand, it was at least 4 years in the making with a surprisingly international team. So I need to definitely be patient with myself if I really only have 3 weeks to go for my demo!

If you want to learn more, just head over here to read up on their game development process. Below is the full length movie.
Moodboards & Styleguides
At this stage, after seeing Emelie's Moodboards, and seeing my ever growing inspiration folder now going into production, I think it's time to get some solid Moodboards together. It's already on the production plan and I will be adding that to the Todo list for this coming week.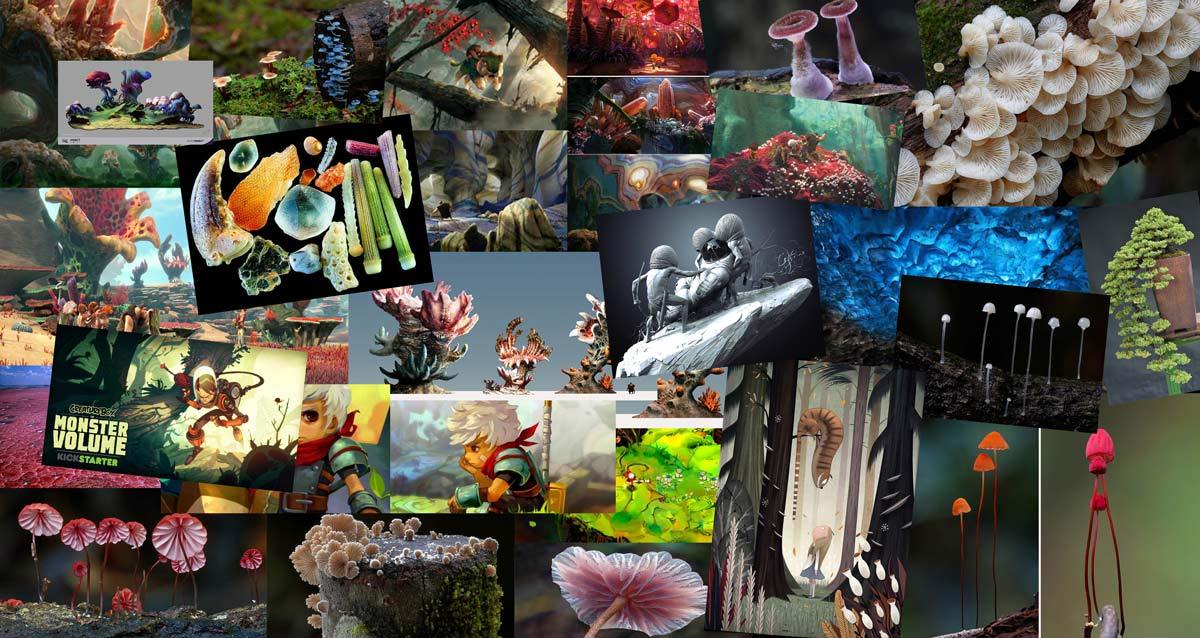 As a bonus, earlier this week I noticed Ouva started following me on my Twitter feed, but only just had a chance to look them up today on Sunday.
To my delight, I found the work they are doing completely resonates with me in terms of the intersection of wellness technology and healthcare. I will definitely be following these guys and perhaps reaching out to them in the future!
My take-away is that this only reinforces the need for my demo(+pitch material) to clearly capture the long-term desire to roll Moki's Adventure out in hospitals, created and developed with the Patient in mind. GearVR is obviously my primary touchpoint, but I see how it could be a physical installation and mobile app as well.
Snippets
This was a short week post 4th of July Monday, but rich in articles on Tuesday! There were 3 posts in particular that I feel are worth sharing!
And most directly inline with Banana Frog mission with regards to helping efforts in conservation and preservation of people, habitats and the human spirit was Barry Pousman's post.
Deforestation in the Amazon is an in-depth, interactive presentation about the dramatic and tragic sequence of events that has led to the massive deforestation of the Amazon.
Goals for this coming week
° Complete the Pluralsight tutorial on how to build a mobile game environment from Blender.
° Play Ori and The Blind Forest to get a sense of how the big buddy/mentor character works and how they incentivize the Player.
° Start building out Moodboards/Styleguides for the environment, a Sea Turtle and Moki. Can I get assets on Gear by end of week? What kind of cheats can I try for purposes of getting the Demo underway?
° Same as last week, continue to get the overall UX/Product plan material in a more solidified and presentable format (i.e. a proper Game Design Document or scope doc).